Heading outside? Take one of these best bluetooth speaker under $100 for an Enjoyable Trip.
Bluetooth speakers are "Wireless speakers" that work without the use of any cables or switches. You can take these speakers to any beach, park or night party to enjoy to the fullest.
Bluetooth speakers are one of the quick and the easiest ways to listen to songs wherever you are without hassling up with the cables.
You just simply need to charge them on time, connect with a mobile device and play your favorite music to get fascinated with the realistic sound coming out of the speakers.
We have gone through a large number of Bluetooth speakers that offer a very capable audio experience in their own right.
The list contains top 10 best bluetooth speaker under $100. Have a look on some of the picks we think are worth your attention and money.
10 Best Bluetooth Speaker under $100
#1. Braven BRV-1
"One Tough Little Speaker" –
Until fairly recently, it was hard to get a Bluetooth speaker within the budget but Braven BRV-1 comes packed with amazing feature and a decent price of 84.35 dollars. The speaker has a rugged splash proof design and has a compact size.
For Bluetooth connection in your Android device, just search for the device in Bluetooth Connections menu.
The Bluetooth range works well within 30 feet with walls which are quite good. Rugged speakers with two audio drivers deliver high-quality sound and play best while playing rock and pop music.
If the speaker is fully charged it can deliver high-quality music effects for 12 hours. If you live a conservative life and don't want to spend much then this speaker is an ideal choice for you.
Key Features:
Rugged Splash Proof Design
Good Battery Life
Water Resistant
#2. Anker Premium Stereo Bluetooth Speaker
Here is the chance for you to enjoy crystal clear audio with impressive sound effects and volume at a price of under 100$. Anker Premium Stereo is one of the best bluetooth speaker under $100 with subwoofer to offer you vibrant rocking chills.
The speaker makes use of ten-watt drivers compounded with 20 W output which seems to be a fair deal at such a low price. The drivers empower extraordinary bass and volume when you play any kind of music whether it is a rocking one or a chill.
While, with most of the other speakers the low sound frequencies are often neglected, with this speaker's MaxxBass technology and dual passive subwoofers you are going to enjoy each and every rhythm with the beats.
The 4.0 Bluetooth technologies increase the speed of pairing, connection and maximize the device compatibility for your ease.
You can never find an attractive combination of portability, design, toughness, and price like Anker premium stereo Bluetooth 4.0 speaker.
Key Features:
MaxxBass technology with two passive subwoofers for enhanced bass and beats
5200mAh lithium-ion battery
Highly Portable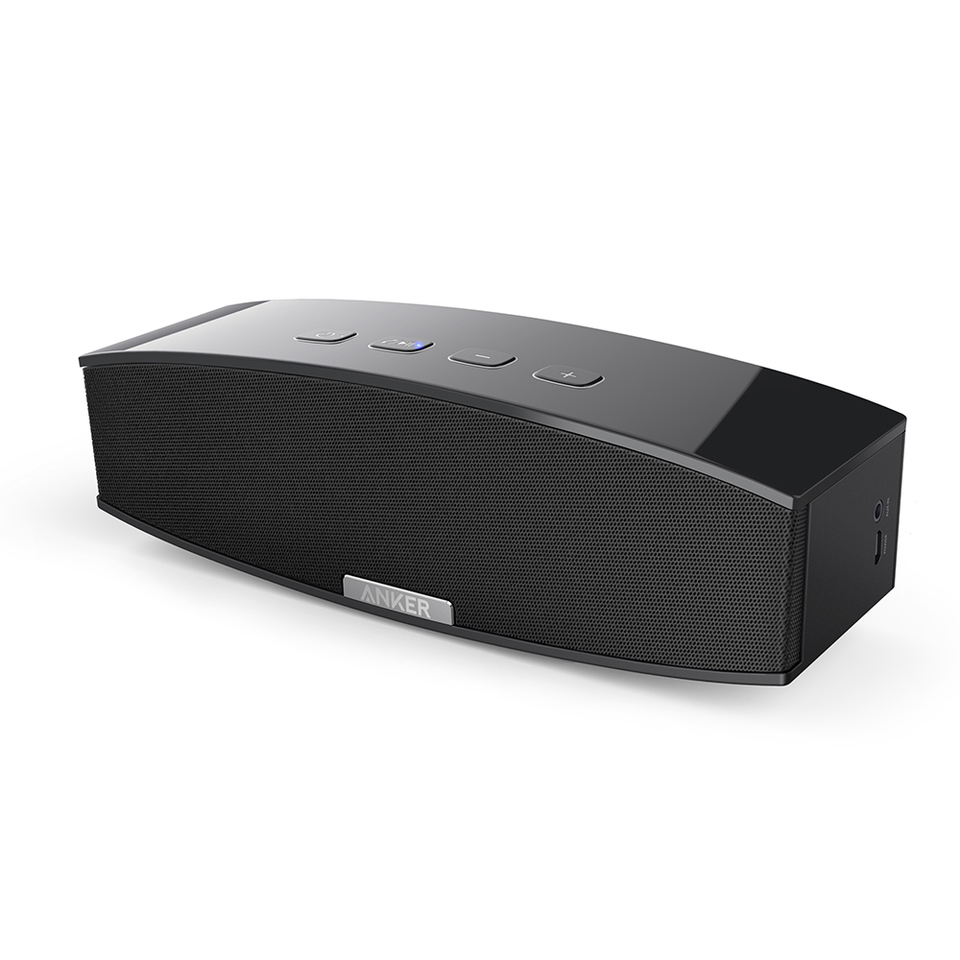 #3. JBL Charge 2+
JBL Charge 2+ is one of the best Bluetooth speaker under $100 as it presents more bass and volume for the sound track you love.
It is a splash proof portable Bluetooth speaker with subwoofer and wireless Bluetooth streaming so you can enjoy the music while just moving around the house. Since it is a splash proof device, you need not worry about water drops falling over it during rain.
It has a battery power of 6000mAH which is excellent for this price range. You can charge the device with USB port and enjoy the music for 12 hours. It empowers noise cancellation and echoes clear speakerphone so that you can enjoy taking calls on the speaker itself.
Key Features:
Social Mode option: Connect with 3 music sources on a social platform to listen to your friend's playlists as well.
JBL Bass Radiator, so that you not only hear the bass but also feel it.
#4. Vava Voom Premium Bluetooth Speaker
Despite being in a competitive market the newly launched Vava Voom Premium Bluetooth Speakers have managed to get a good image for powerful, portable and most importantly affordable speaker.
Vava Voom presents an overall look of classic audio gear as it is encased completely in black metal speaker grills. The audio performance specs are more of a mixed bag as it uses two drivers and two passive radiators to enhance music style during any occasion.
It offers the dynamic system to adjust between Standard, Party and Surround equalizer modes. So, if you want a customized system that could adapt to your party themes and occasions than this handy speaker is worth buying for you.
Key Features:
Strong Bass Effects
6700mAh lithium-ion battery for 10 Hour Playtime
Facility to Pair up two devices at once
#5. Ultimate Ears Roll 2
Whether you're partying or just roaming around the house, enjoy with one of the loudest portable speakers under 100$. The speaker provides a sound value of 85 dba at a frequency range of 108hz to 20khz which nails everything a speaker should be.
It is a waterproof speaker and the company members claim that even if you immerse it in a liquid for up to 30 minutes no harm would be suspected.
The sound is so loud that it gives you a perfect adventure of soundtrack wherever you are. So if you have a party at your home, you need not buy a DJ system owing to its volume benefits.
Key Features:
Up to 10-hour battery
Waterproof IPX7 rated
Pair up to 8 Bluetooth enabled devices at a time
#6. Inateck BTSP-10 Plus ($36)
This Bluetooth speaker wins the hearts of user owing to its sound and builds quality. Just for a cool 36 bucks Inateck BTSP-10 plus speaker is one of the best Bluetooth speaker under $100.
The speaker acknowledges 3-watt precision driven drivers that pump out clear highs and lows with bold immersive vibrant sound in every direction. It has a honeycomb stamped design and is wrapped in a single strip of matte-coated plastic.
Regardless its low price, the speaker suit for every occasion with high-quality bass effects. The Bluetooth technology used is 4.0 which is perfect for a range of about 33 feet.
Key Features:
Conference Call Capabilities
7-8 Hours battery life
Bold design and high build quality
#7. Sony SRS-XB2
Sony SRS-XB2 is truly an award winning Bluetooth speak with top notch performance despite its affordable price.
The speaker has an extra bass mode for powerful and vibrant sound effects. It is a party Bluetooth speaker owing its water resistant capabilities and innovative extra bass technology.
The long battery life of this speaker offers you to listen to the unlimited song for the whole day long without any intervention. It has an extra bass button that takes the vibrations and beats of the sound to an exciting new level.
Key Features:
Compact and Portable Design
Water Resistant for a longer life
Built in Mic for Hands-free calling
#8. JBL Clip : Best Bluetooth Speaker under $100

If you want an extremely portable Bluetooth speaker which can accompany you almost anywhere then JBL Clip will prove best for you.
The price is very affordable as it is priced at $38, but have to compromise a bit with the sound quality. This speaker can fit the pocket of your easily which could help you listen to your favorite songs while you are at work or traveling somewhere.
The speaker comes with a carabiner which can attach to your shirt or a backpack. No doubt the battery life is short of only 5 hours but at 38$ and extreme portability features, it is a worthy buy.
Key Features:
Hands-free functionality
USB powered for charging
600 mAh capacity for 5 hours run-time
#9. Harman/Kardon Esquire Mini
With a decent design, optimum sound quality and an affordable price, Harman Kardon Esquire Mini has become the first choice of many people.
The product design is very beautiful with a black leather finish that marks it as a state of art, bold solution for music lovers. The speaker makes use of dual high-performance drivers and a noise cancellation technology to create a masterpiece.
Key Features:
8-hour playtime battery life
Wireless Bluetooth 4.0 streaming
Dual microphone conferencing system
#10. Polk Boom Swimmer DUO
While many of the Bluetooth speakers are best suited for indoors you can take Polk Boom Swimmer DUO outside on any beach party or night out with friends to enjoy on the beats of your favorite music. The best feature of this speaker is that is dirt, shock, and water resistant to let you enjoy the music beats anywhere anytime with ultimate portability that the design offers. It offers a built in mic system so that you can take up incoming calls while listening to music.
Key Features:
Flexible Tail & Suction Cup Attachment
Available in different colors
Dirt, Shock and Waterproof
Well, worry not if you don't want to spend too much on Bluetooth speakers. The speakers mentioned above offers a varying range of features at an affordable price of $100.
So, this was our list with best bluetooth speaker under 100. Let us know in comments which one you like the most.
You may also like :