I understand how it feels when we suddenly look at our iPhone gallery and find no photos there. Such a terrible feeling and that particular time we feel we are the most helpless person in this world. We start searching multi of ways to know How to Recover Deleted Photos from iPhone?
In every case, we need to make backup when there is some important files stored in our iPhone. But what about the time when you have lost all your images and there is no backup to recover it instantly.
Well, this might happen with anyone but there is nothing to worry about as this article is fully dedicated to all those who asked for help to Recover Deleted Photos from iPhone.
Simple Tricks to Recover Deleted Photos from iPhone
#Method 1: Recover Deleted Photos from iphone Directly
Step 1: First of all you have to download and install the iSkysoft iPhone Data Recovery on your computer. Open it and select the option that allows you to "Recover from iOS Device".
Step 2: Connect your iPhone to your computer and start scanning your iPhone. By scanning the device you will be able to see which files can be recovered. If you have lots of data saved in your iPhone, then the scan process might take little more time.
Step 3: When the scan stop, you will receive a list of all the files you can recover. They are listed in categories, so we need to go to the appropriate category i.e photo gallery and browse the results. You can preview each photo individually to see which photo need to be restored and when you will find your deleted photos just click on "Recover" button to recover deleted images from iPhone.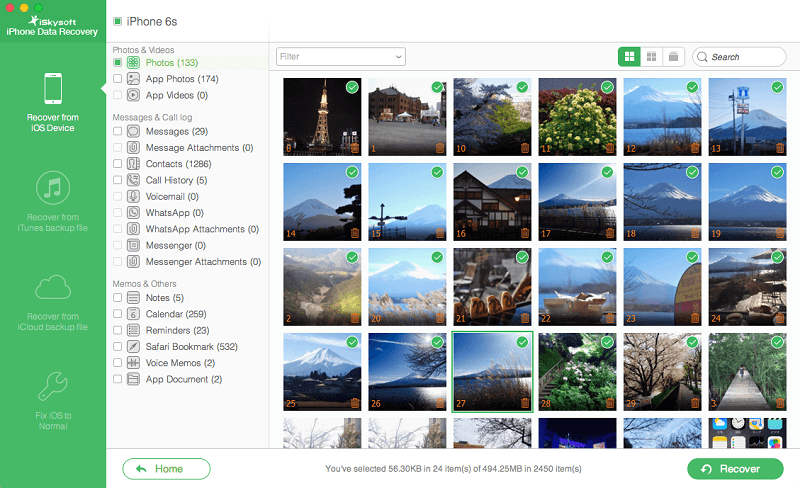 #Method 2: Recover Deleted iPhone Photos from iTunes Backup
Step 1: Install and open the iSkysoft iPhone Data Recovery, and then switch to "Recover from iTunes Backup File" by clicking on the option on the top of the window. A list will appear containing all iTunes backup files existing on your computer and present them all for your option.
Now you have to select the desired iTune Backup and initialize the scan process by pressing the "Start Scan" button.
Step2: Once the scan is completed you will be able to view the results listed as categories. Browse the photo category and select the images you want to recover. Press the "Recovery" button and wait until the recovery process is completed.
#Method 3: Recover Deleted iPhone Photos from iCloud Backup
Step 1: Choose "Recover from iCloud Backup File" on the top when you've run iSkysoft iPhone Data Recovery on your Mac. Then enter your iPhone ID and the password to log in.
Step 2: After your login the program can automatically find all backup files existing in your iCloud account and display them. Select the one you want and click "Download" to get it on your Mac.
Step 3: Now click "Scan Downloaded" to extract the content from the backup and finally you will be able to access and preview the content in your iCloud backup in detail. Check out your photos one by one and select the one you want. Then click on the Recover button to save them on your computer.
Hope the above tricks will help you to Recover Deleted Photos from iPhone.