All of us simply love chatting with our friends and relatives who are miles away from us. We can share images, videos, and pictures with friends on various video chat apps available today in the App store. These apps also have a video calling feature by which we can call anyone our contact list.
These video calling apps keep us connected with our dear ones even if they are in some other part of the world. Video chatting is one of the most amazing ways to talk with all our friends and colleagues. It does not only provide the benefit of chatting but also sharing important information from Android devices.
List of 10 best video chat Apps
If you want the best video call app for your Android phones and tablets, you can just have a look at some of the below video chat apps specially developed for the purpose of video calling.
Google Duo is definitely the best video chat app for Android devices of the year 2018. It provides best video quality to enjoy the conversation on your Android devices. It has a cool feature of Knock KKnock by which you can see who is calling you on Google Duo.
You can even do audio calls to your siblings and buddies. Google Duo has a lovely user-interface which offers an easy option to directly call your best friends on your contact list.
IMO is one of the coolest video chat apps by which you can enjoy video calling with various features. You can share your videos and pictures on this app. There are beautiful stickers which you can share on special occasions.
You can also make group video calls on this video app. This app gives you free video calling service anywhere in the world. IMO app works smoothly on all networks such as 3G, 4G,and Wi-Fi.
JusTalk is amazing free video chat app which you can download on your Android devices. It provides HD mode for your video calling so that you can enjoy video calling for hours on your devices.
You can join in a group video calling with your friends, relatives, and colleagues. JusTalk has many cool stickers which can send to your friends for fun. You can even play various games available within this video calling app.
Video calling has been recently added to Facebook Messenger. The messenger has HD mode for making video calls and you can enjoy the high-quality sound feature. This app has many stickers and art forms which you can attach with images and pictures to share with your best buddies.
You can download Facebook Messenger for free on any of your Android devices. It is also one of the best video chat apps for the purpose of business.
The next on the list is Skype which is very famous free video chat app among business groups. It has many emotions and reactions which you send to your friends for fun. There are many Add-ins by which you can share quick messages.
You can on any mobile or landline numbers with the help of Skype. The private message feature will help to have a private conversation about the work with your colleagues.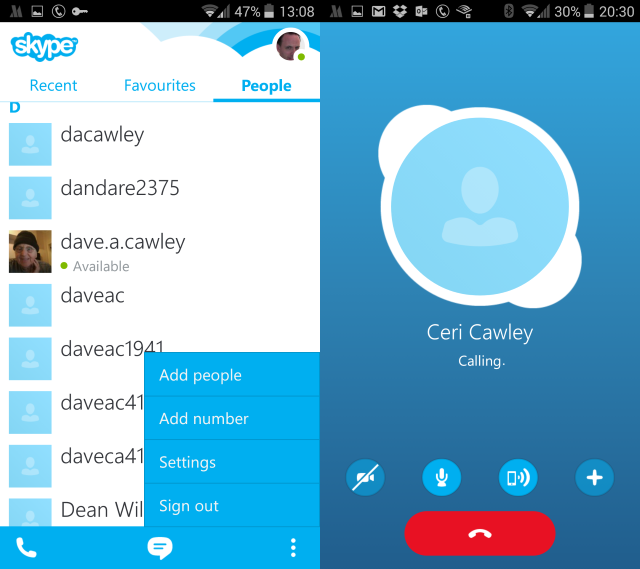 WhatsApp is the most popular messaging app these days. It also has a video calling feature by which you can make a video call to any of your relatives, friends or family members staying away from you.
You can share images, videos and various documents on this app. You can also use WhatsApp from PC and send messages and images from it. There are no chances to miss any important messages on WhatsApp as it keeps you always logged in.
Viber is an Android video chat app which provides long distance video calls. You can make group calls and join in a group discussion. This app encrypts your messages and images so that they remain private.
You can also delete a message or image after sending it to your friends. Viber contains a special "Hidden feature" to hide all your private chats which you can see it later.
Hangouts is one of the most commonly used video chat apps by many people. You can share text messages, images, live videos and animated videos with your friends and relatives via Hangouts.
It also provides a facility to save all your messages even if you are offline. You can make a video call with 150 people at the same time and share beautiful images and videos.
Tango is a free video chat app for your Android devices. It has a special HD mode for making video calls to your friends. You can create a live video of special occasions and share them with your friends and relatives via Tango.
There are wonderful masks which you attach to your images and pictures to make them more attractive while sending them to your friends. You can become a STAR and receive gifts from your loved ones.
The last one the list of video chat apps is LINE app. It provides both voice and video calls to anyone on your contact list. You can have a group chat with maximum 200 people in this app. You can send images, live video, locations, and pictures to colleagues and friends.
There is a poll feature which is latest in LINE app to let your friends know easily about your current activities. It contains stickers of famous characters of the globe.
Conclusion:
The above listed are some of the most popular video chat apps of Android users all over the world. You can download these apps for free of cost on your Android phones, tablets, and notepads to enjoy endless video calls with your friends, siblings, family members and relatives who are in other parts of the world. These video calling apps are safe to use as well as download and provide you 24*7 free calling facilities.